DA approved for Liverpool's most sustainable building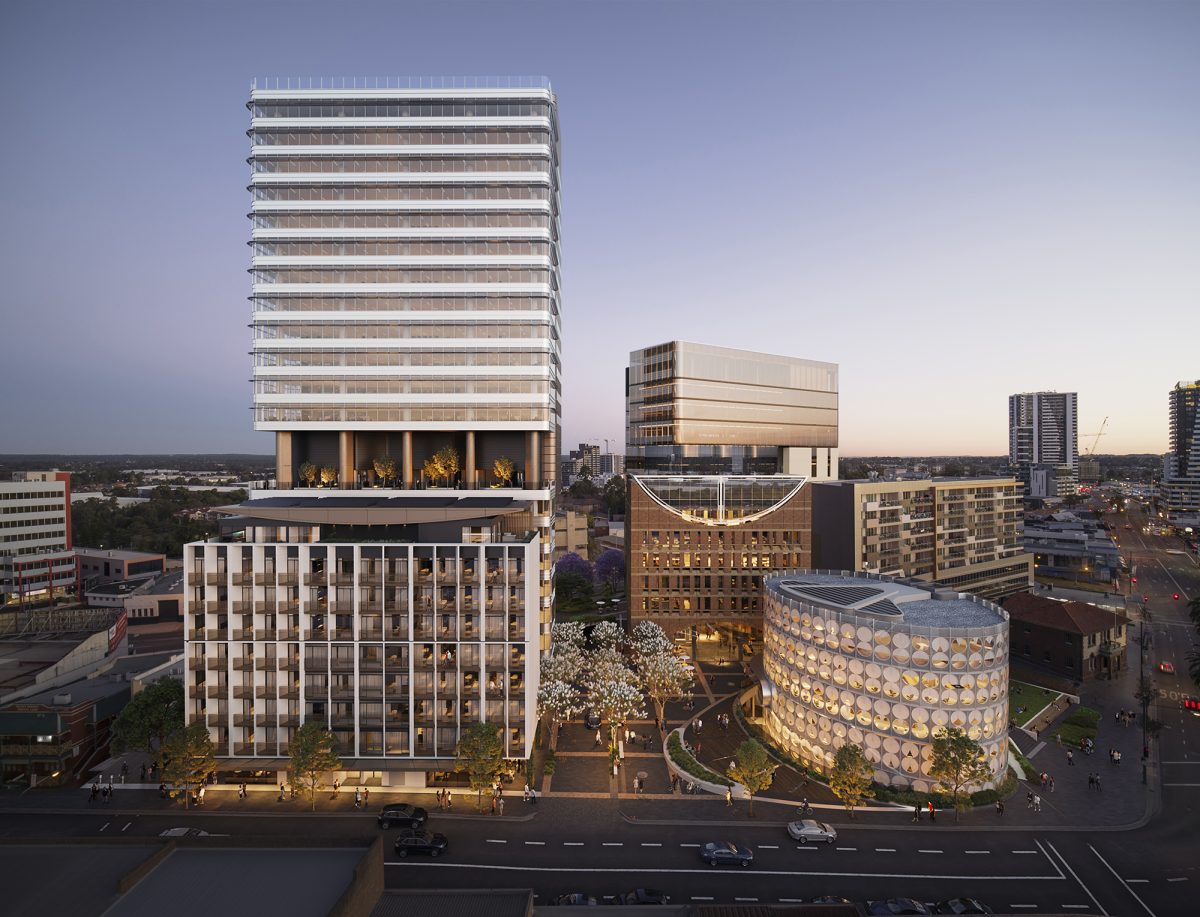 National development and construction group, Built, has received development application approval for the next phase of the Liverpool Civic Place mixed use precinct which will include Liverpool's most sustainable building.
Phase B and C of the approved Liverpool Civic Place Master Plan will include construction of:
A 24 storey A-grade commercial office building, to be known as 44 Scott Street, comprising 19 commercial office levels and lower ground and upper ground retail floor space;
A nine storey hotel comprising 84 rooms and ground level retail floor space; and
A four level basement, including 151 parking spaces.
44 Scott Street will be the centrepiece of Liverpool's regeneration as Sydney's third CBD and has been designed by award winning architects, fjmt, and inspired by sustainable design principles, innovative technology, and the local community.
The commercial tower will set new ESG standards for both Liverpool and Western Sydney by targeting ambitious carbon emission reduction goals which include 50% less embodied carbon in construction and 50% less energy consumption in operation compared to a conventional building.
44 Scott Street will also operate on 100% renewable electric power from day one and follow a circular economy design plan that will maximise potential for disassembled materials through the demolition and construction process to be reused, recycled or reincorporated into the supply chain, to reducing waste and environmental impact.
It will target a 6 star Green Star rating, the highest sustainability rating level for commercial buildings in Australia, as well as 5.5 star NABERS Energy and 4 star NABERS Water efficiency ratings and WELL Core Gold certification for health and wellness benefits for occupants.
The building will be designed using pioneering digital engineering technology which will provide 3D modelling to achieve the best sustainability outcomes including waste and carbon reduction and provide a future digital twin of the tower to maximise energy efficiency improvement in the future.
Built Managing Director and CEO, Brett Mason said the state-of-the-art 44 Scott Street would put Liverpool on the map as an emerging sustainable city and innovation hub that is built for the future.
"This will be a truly transformative project for Liverpool which, along with Liverpool Civic Place and the development of new Western Sydney Airport and Aerotropolis, will attract a new level of economic investment, businesses, and residents to Sydney's third CBD," he said.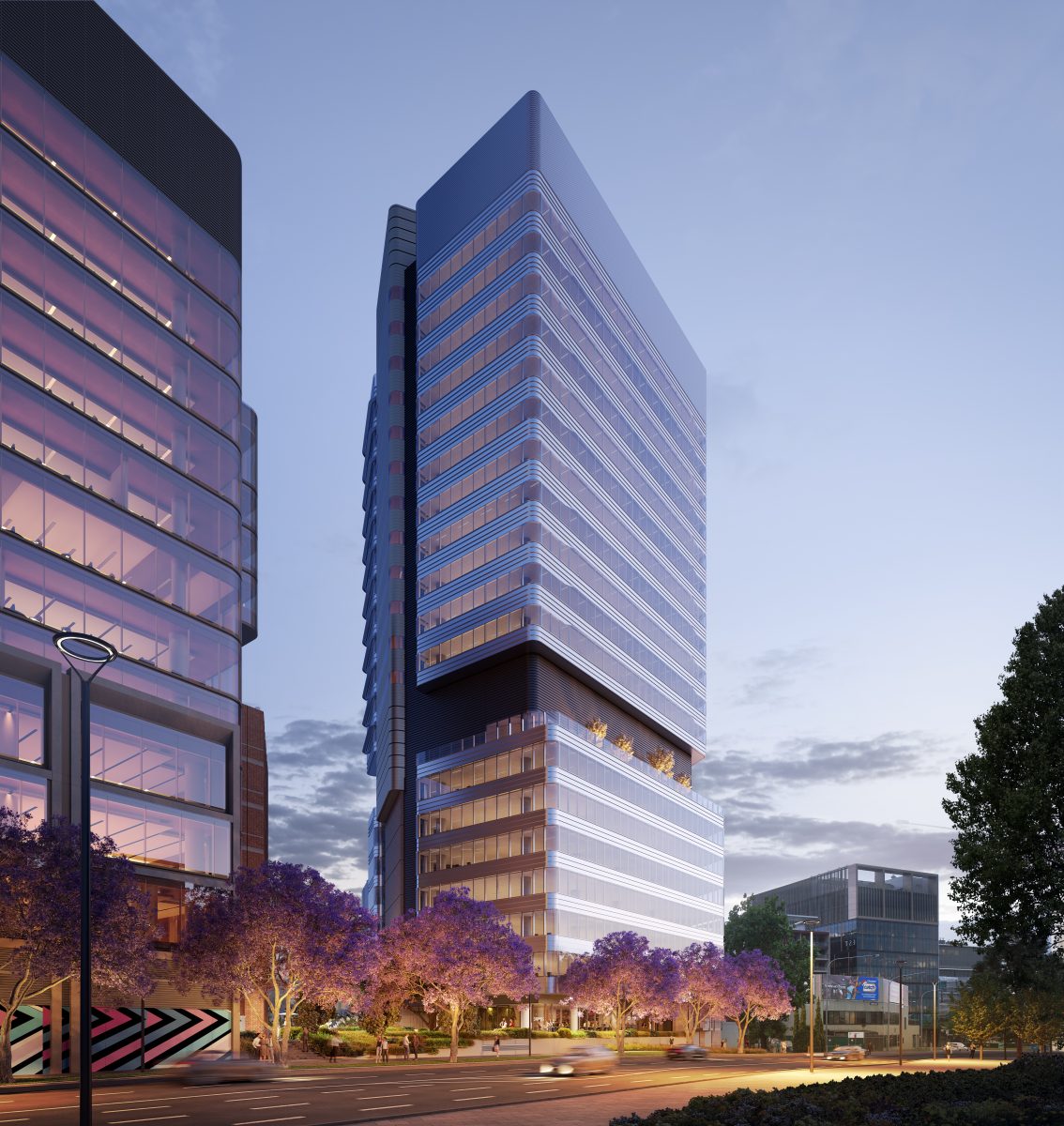 "We're looking forward to delivering a project that will set a benchmark for sustainable buildings in Western Sydney if not Australia."
The development is being marketed to tenants by Resonate Partners who believe the project with be attractive to organisations who desire a holistic approach to sustainability and smart integrated building technology in their commercial workspace as well as a sense of place through the activation of the ground floor plane in the new precinct that connects with community.
Resonate Director, Jonathan Betts said "Tenants are now looking for ESG solutions that go beyond just 'ticking the box' and value innovative solutions that integrate building technology in a smart yet simple way that allow for hybrid workforces to operate efficiently."
"44 Scott Street delivers a modern sustainable workspace that benefits from being part of the Liverpool Civic Place precinct which connects with the community and ensures occupiers feel safe and secure."
The new commercial tower and hotel will complement the adjoining stage one Liverpool Civic Place public spaces currently under construction by Built as part of a joint venture with Liverpool City Council including new Council offices, Council Chambers, childcare centre, state-of-the-art city library, Civic Plaza and underground public car park.
Construction is set to commence in 2023 and a leasing campaign is underway with Resonate Partners to attract and secure top tier businesses as tenants.