Liverpool Civic Place crane has a new name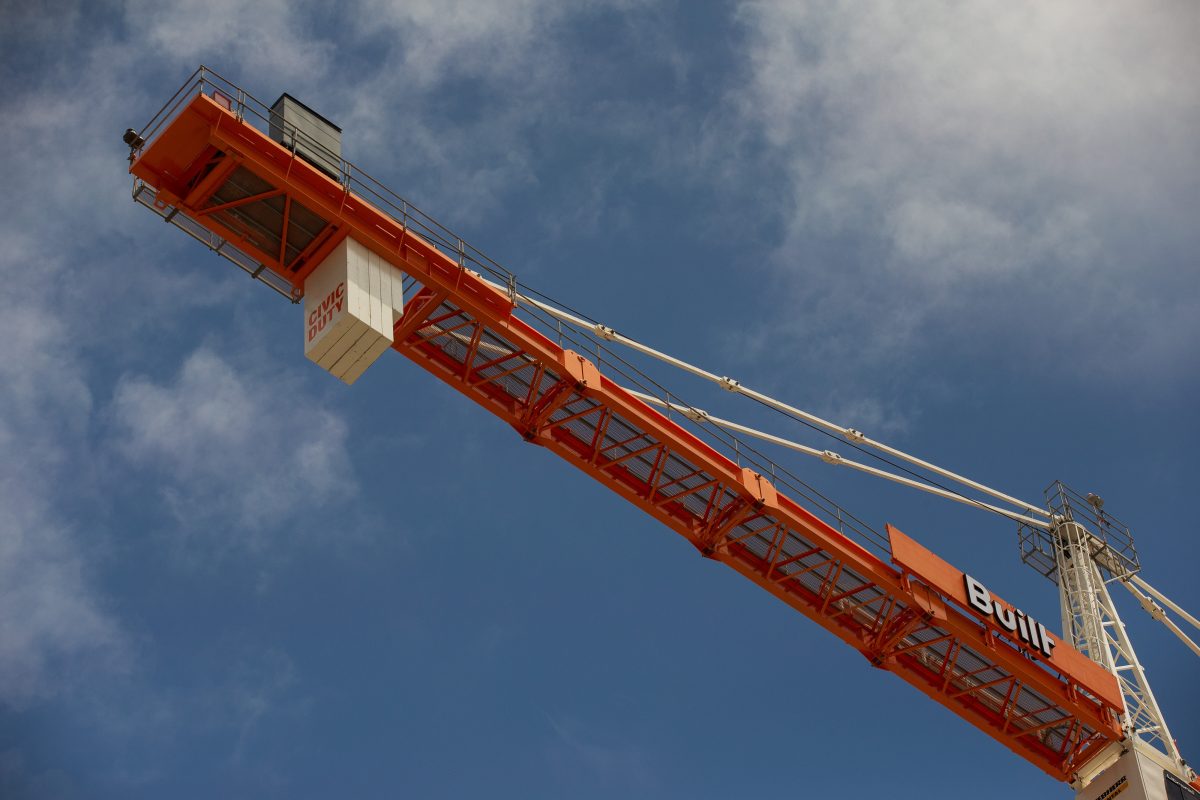 Year six students from Lurnea Public School, Gabriel and Flynn have taken out first place and bragging rights among their peers in a Name the Crane competition facilitated by Liverpool City Council and one of Australia's largest private construction groups, Built.
The crane, that will help support the delivery of one of the most exciting public projects happening in Liverpool, Liverpool Civic Place, will be known as 'Civic Duty' in recognition of the job it will be doing for the community.
Liverpool Civic Place will bring a number of exciting opportunities to those who live and work in the area, including new Council offices and chambers, a community hub, a Civic Plaza and public parking.
Hosted by the Liverpool City Council and joint-venture partner Built the competition called on local students to play an active role in the project by suggesting a potential name for the crane that will help facilitate the development of Liverpool Civic Place that will anchor and activate the southern end of Liverpool CBD.
Second place was awarded to 11-year-old Jessica from St Therese Catholic School for her entry "Lachlan the Crane" cleverly named after Governor Lachlan Macquarie the first European to arrive in Liverpool. Third place was awarded to Carmelo, also aged 11, from Sadleir Public School for his entry "The Makers of Liverpool Spirit" which was chosen due to the positive spirit Liverpool Civic Place will bring to the community.
All winners were awarded a portion of the $5000 prize pool to be put towards learning resources for their school, with first place receiving $3000, second $1500 and third $500.
Mayor of Liverpool Wendy Waller thanked the winning students from the 2168 Children's Parliament that took part and helped Council and Built with naming their crane. The Parliament is a platform for children to have a voice and participate actively in civic matters.
"When the task came up of naming our crane at Liverpool Civic Place – we knew we had to get the best people on the job to help us – the members of 2168 Children's Parliament.
"Gabriel and Flynn have come up with a fantastic name that really reflects what Civic Duty will be doing. I was blown away by the colouring and naming skills of all the students who took part.
"Liverpool Civic Place will be not just a destination but an experience for people of all ages. Creative input from students was important because Liverpool Civic Place will have facilities for the whole community. Students will benefit from the state-of-the-art library, while families can take advantage of the childcare centre," Mayor Waller said.
Stephen Boss, National Director added that naming the crane for Liverpool Civic Place was a great opportunity to connect the local students with the construction works as the future citizens who will most benefit from the development for many years to come.
"It's been a great initiative for our team on site to be involved and we were impressed by the creative ideas provided by the students which made it hard decision to pick a winner," he said.
Demolition is complete with excavation works, for the Council Works component of Liverpool Civic Place, expected to be finished in November 2021 and construction estimated to be complete by early 2023.