Case Study
55 Market Street
Value: $61m
Client: Mirvac
Architect: Fender Katsalidis
Completion date: September 2020
"From the onset Built took the time to understand the challenges of the project and provided smart solutions and a well-planned methodology that considered our lease arrangement needs and gave certainty around programme delivery."
Simon MacKinnon, National Operations Director, Commercial Development, Mirvac
"Built are always a very reliable and flexible partner who thrive in complex work and live environments like these and take pride in a quality result. They are great problems solvers who think outside the box to always deliver what they promise."
Cris Van Haren, Associate Director TSA
The New Way Forward
Navigating a live environment in Sydney's central shopping district
This project required ninja-like navigation of a complex live environment. Wedged between Sydney's historic State Theatre and the entrance to bustling Pitt Street Mall, 55 Market Street required a top to bottom external and internal refurbishment and demolition with minimal impact to its surrounds.
Built undertook the complete demolition of the tower's existing pink granite façade, formerly the entry/exit for the old Sydney monorail station as well as removing the old rail tracks and infrastructure, which required inventive solutions to make way for a new slab.
Mindful of the existing tower's tenants as well as accommodating early tenants in the retail space below, the Built team found astute ways to access the site and load and remove materials, while restoring the building boundary as if the monorail never existed.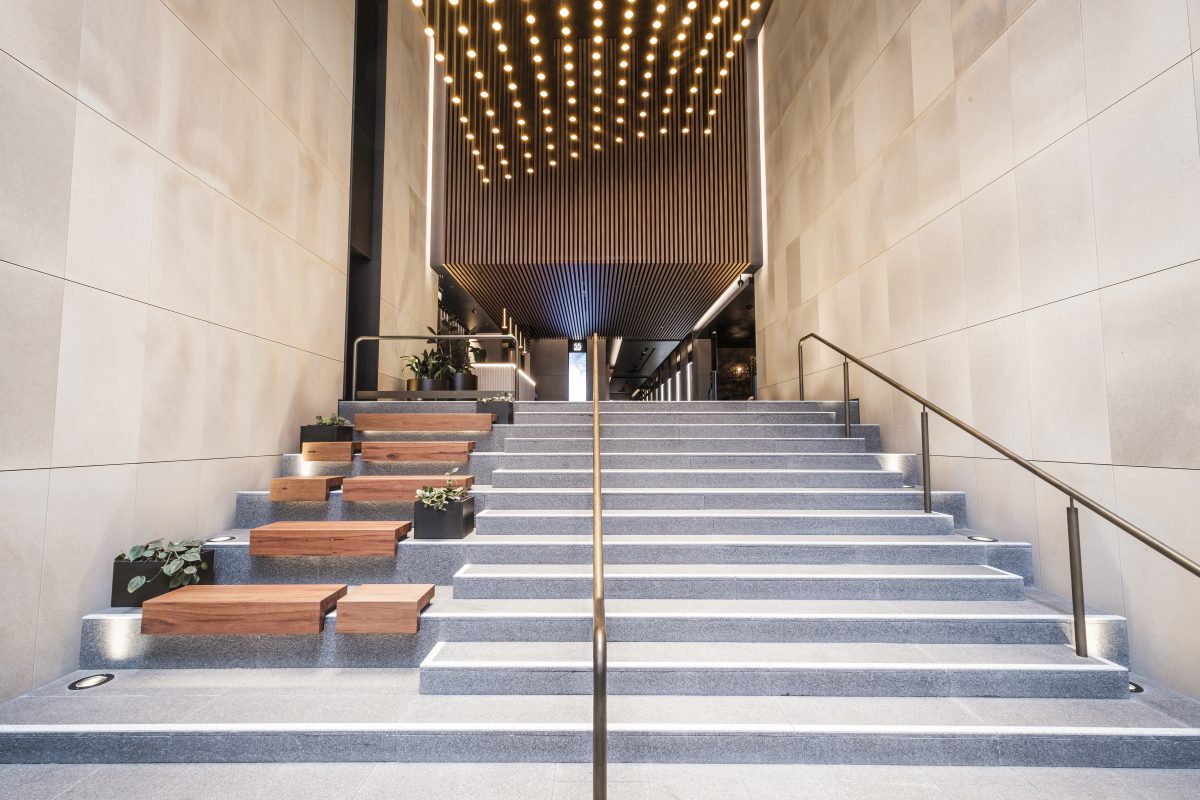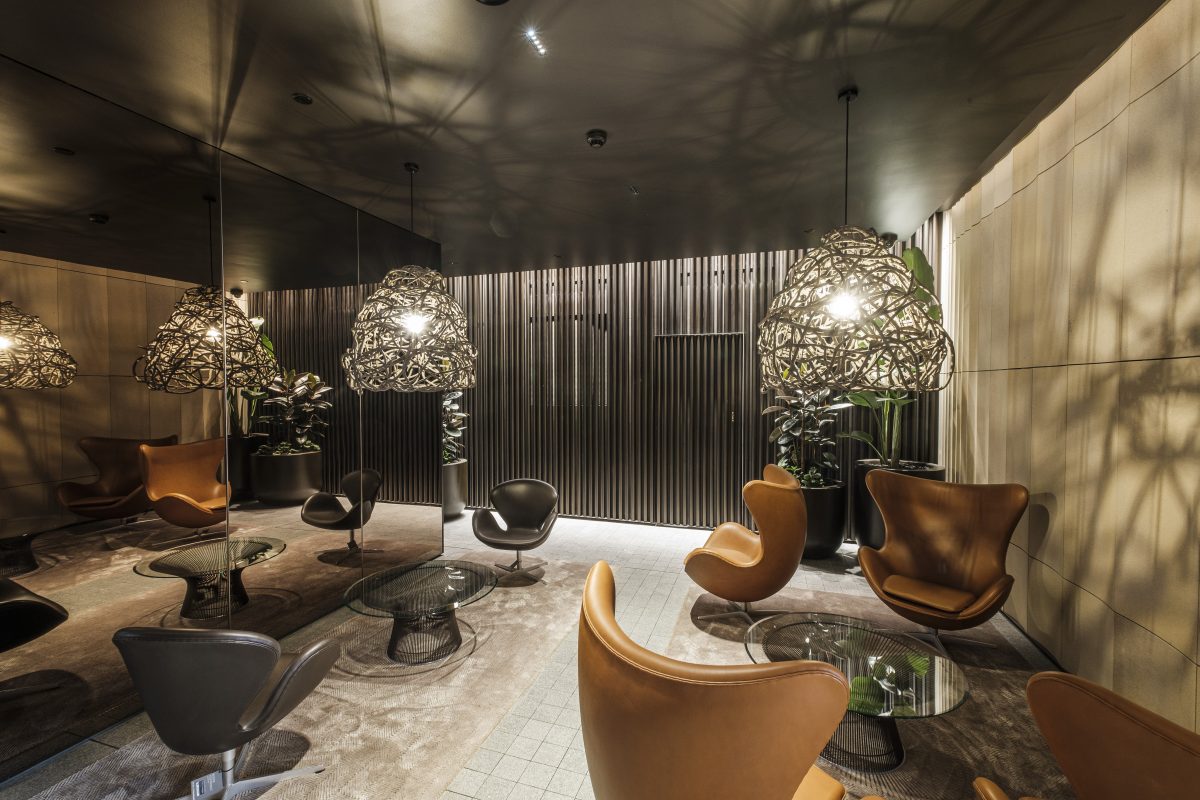 A sophisticated upgrade attracts higher level tenants
This existing commercial asset – set in a prime location – was dated and in need of uplifting. Through this top-to-bottom refurbishment, Built has cleverly repositioned 55 Market Street as a brand new building without the need to demolish and rebuild from scratch.
Working in a live environment, the team updated the retail area, built a new lobby and upgraded the base building to include a 20-floor commercial office area, while installing new mechanical systems and services building-wide and end-of-trip amenities in the basement.
Similarly, the striking Gosford sandstone and glass façade, along with the new three-storey high lobby and lifts all required major structural work from inside the building to avoid impacting tenants and neighbours. Today, these offer a sophisticated environment for all.
Accommodating the project drivers – during a pandemic no less
Working closely with the owner, Mirvac to understand the drivers for leasing the new building, Built established a program and methodology that allowed the project to accommodate not only an early retail tenant but the arrival of a pandemic.
Built devised a program that provided the new tenant – a high-end duty-free store – with a water and air-tight shell that was handed-over before the completion of the façade and lobby, so the tenant could begin their fit-out early and open with the rest of the building.
When the pandemic hit, the project was well underway and on a tight timeframe. Built moved speedily to adapt its work practices so construction could continue safely, with staggered hours for workers and split locations for site teams to minimise contact.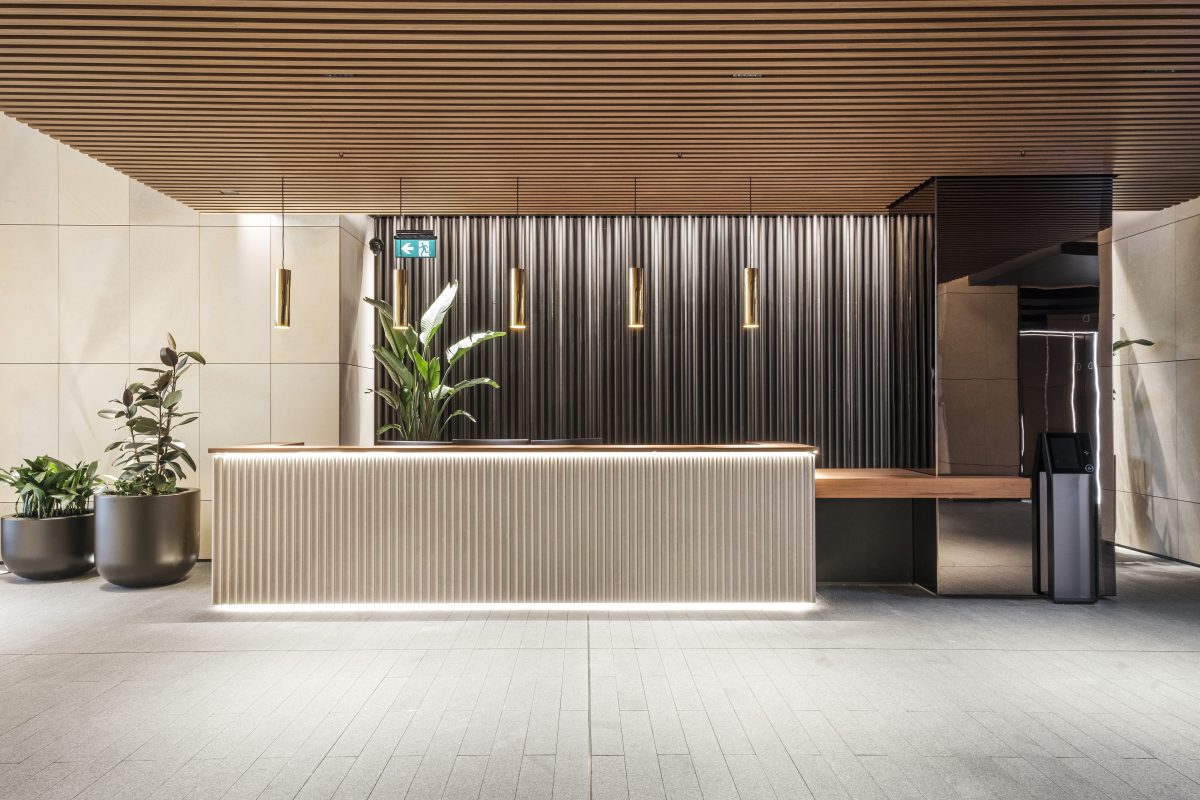 Benefits
Refurbished commercial space, levels 3 to 20
Three-story, ground-floor glass-façade mezzanine
High-end retail location in Sydney's CBD
Premium end-of-trip facilities
Upgraded plant, building code compliance and fire stair upgrade
The sustainability impact of this project includes:
---
Designed to achieve 5-star NABERS Energy Rating
---
Designed to achieve 5-star NABERS Water Rating
---
Energy efficient LED lighting, plant and air conditioning upgrade