Value: Undisclosed
Client: Cremorne Properties
Architect: Hassell 
Completion date: February 2021
"The use of Building Information Modelling (BIM) technology meant that Built was able to work with the design team and shop detailing to achieve integrated modelling and coordination on this build. The ability to see all the components allowed the design team to understand all the issues that would arise and resolve problems before any works commenced. The construction of the building and roof façade using this approach saved site and cranage time, minimised access problems and simplified construction on site."
Michael Kerkhof, Director, van der Meer Consulting
"Built's driving force to apply Building Information Modelling (BIM) on 60 Cremorne Street established from the onset a digital master plan for the Design and Construct team, the focus being to create and maintain in real-time a digital model that would empower multiple partners to collaborate on design and construction work, build consensus and resolve conflicts quickly and cost effectively before they caused expensive delays."
Tony Lukic, Managing Director, Menco Electrical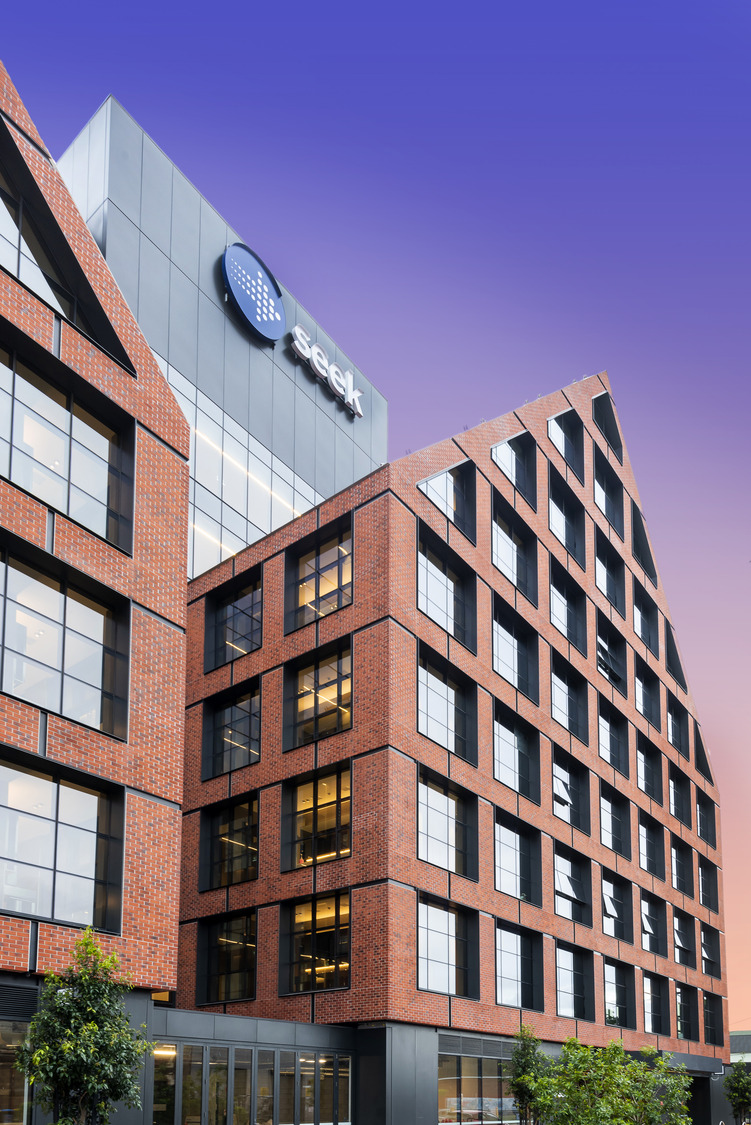 The New Way Forward:
A future-focused workplace for future-thinking clients
60 Cremorne Street has been designed to support today's workers and the broader community, as well as the commercial hubs of the future.
SEEK's primary objective was to create a people-focused workplace, one that fosters connection between workers and offers future flexibility within floorplans.
Built's project team has delivered a technology-enabled workplace that's future proofed, as best it can be, with touchless access and flexible floorplates.
A soaring atrium minimises the vertical barriers between workers, offering a single open timber staircase that unites the building and connects people across all levels.
Natural ventilation, ground-floor retail and a raft of outdoor gardens, including a winter garden designed for Melbourne's climate, all help to support the wellbeing of tenants by providing connectivity to their surrounding environment.
This striking new building helps to reinvigorate Cremorne, an inner-city suburb that's become a new tech hub for Melbourne, attracting new business, workers and residents.
Virtual construction enables a world of innovations
Built's use of virtual design and construction (VDC) and 3D modelling tools throughout the project enabled the project team to detect clashes and resolve issues well before construction.
With a steep sloping roof and unusual architectural shape, the project required enormous innovation to avoid a time-consuming installation and limited access.
Together with the structural engineer, Built devised a system of modulation, which allowed simple fixings in areas that were accessible using pre-fabricated and pre-installed materials.
Through 3D modelling Built was able to solve complex problems around how best to coordinate and install the corium brick façade, roof and atrium steel and underfloor services.
The cantilevered atrium staircase was installed using computer drawings and animations which helped Built weld the staircase together on site and clad it in sustainable timber.
By embracing the latest modelling technology early on in the project, Built was able to coordinate a highly efficient build, bringing subcontractors and partners onboard with ease.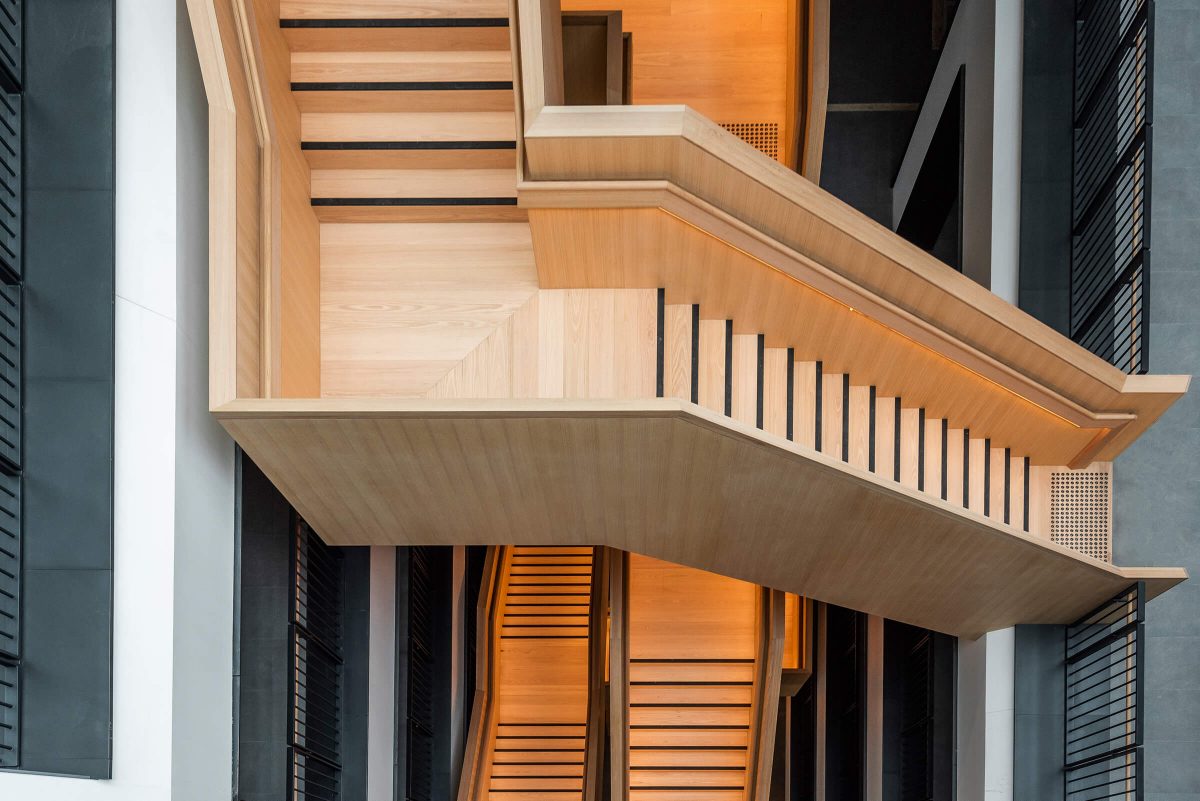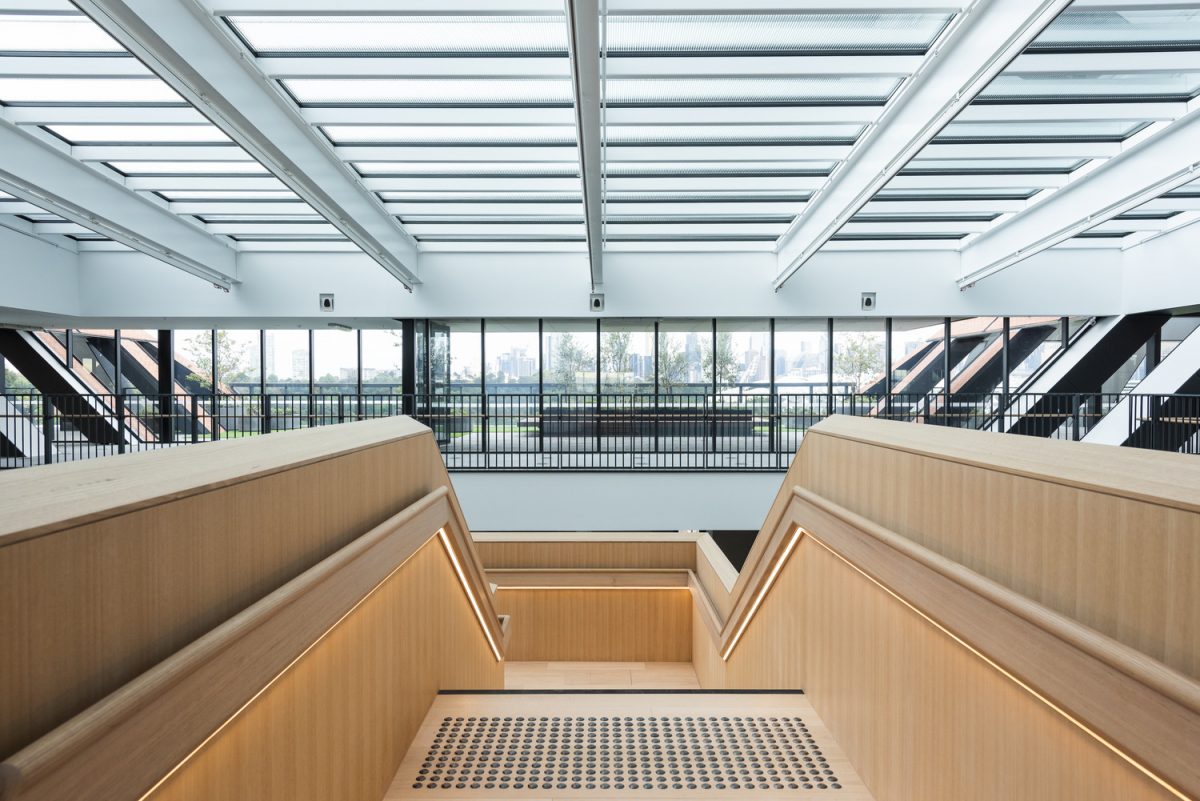 A sustainable legacy for long-term engagement
From the design brief, Cremorne Properties sought to achieve the best possible indoor environment for SEEK and its people, with access to natural light, fresh air, ventilated spaces and self-controlled systems.
The company expected to achieve a 5-star Green Star rating for SEEK's new home; instead, Built overdelivered a contemporary, 6-star Green Star office building.
The project also achieved a 90% recycling rate during the build and today boasts a range of sustainability and wellness features, such as extensive end-of-trip facilities for workers.
A future-proofed and adaptable underfloor air-distribution system, as well as outdoor terraces and winter gardens, all add to the long-term sustainable footprint of this building.
The use of VDC now serves as a valuable facilities management tool for the client, providing insight into every part of the building and baseline data from which to make decisions to optimise the building in the future.
This seven-storey building features:
Top-level feature terrace
As built validated digital twin for future FM
The sustainability impact of this project includes:
---
6- star Green Star design As Built rating
---
5-star base Building NABERS energy rating
---